Level of Detail
If there's one domain where Rockstar outperforms the competition, it's when it comes to LOD. The world of Los Santos exists in so many different versions with more or less details/polygons, everything being streamed live while you play without a blocking loading screen. And it makes the whole experience so much more immersive.
Lights
All the little lights you see in the far distance are real, you can drive towards them and find the bulb that casts the light.
This is what Aaron Garbut, one of the Rockstar North founders and art director, was declaring shortly before the PS3 release.
How accurate is his statement? Let's consider this night scene: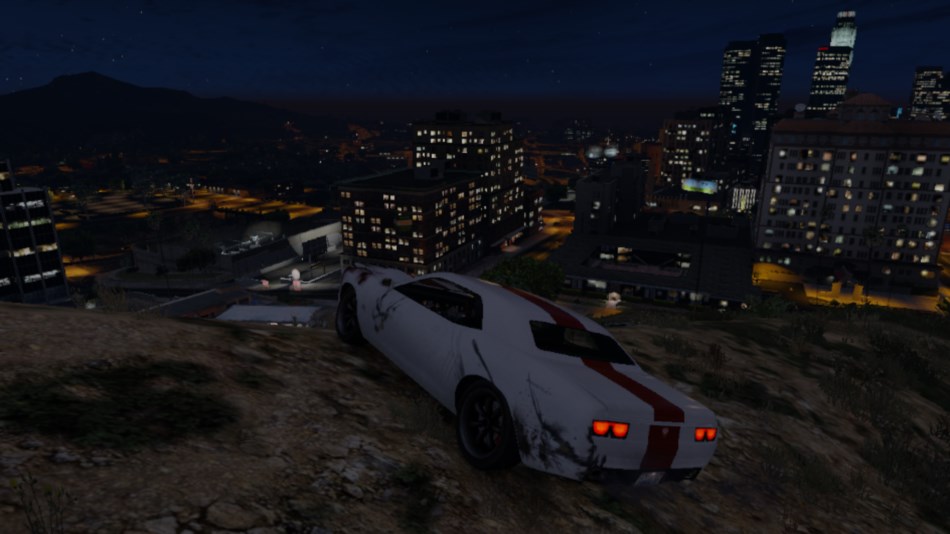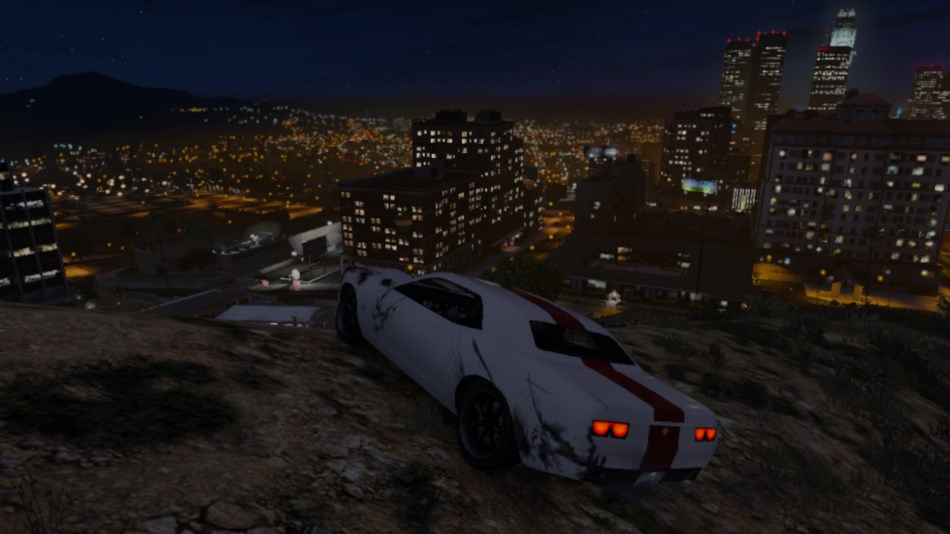 Well it simply is the truth: every single small light spot you can see is a quad rendered with a small 32x32 texture like the one on the right.
They are all heavily batched into instanced geometry but still it represents tens of thousands of polygons pushed to the GPU.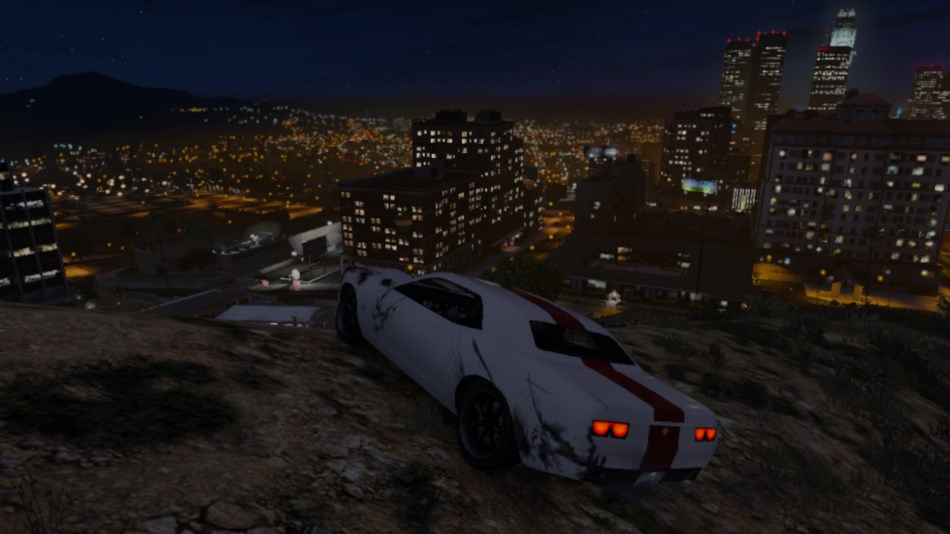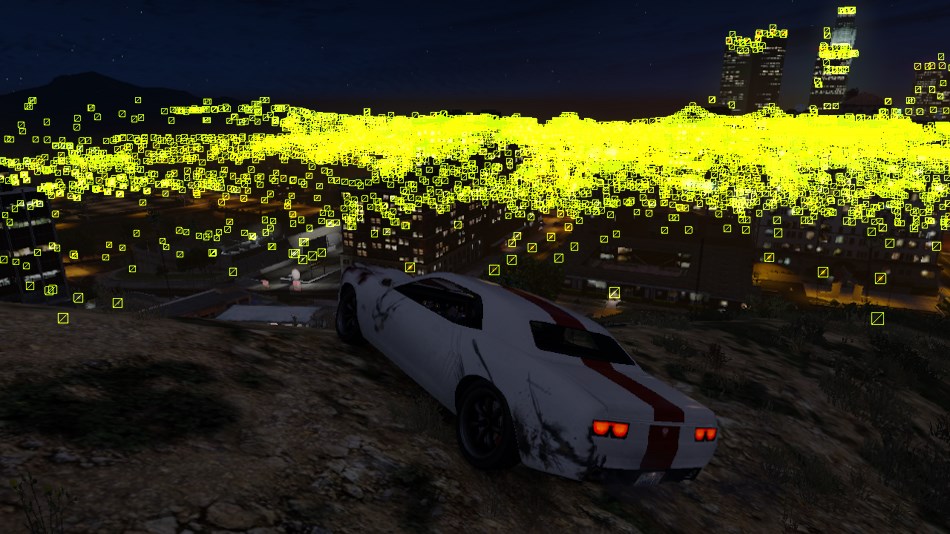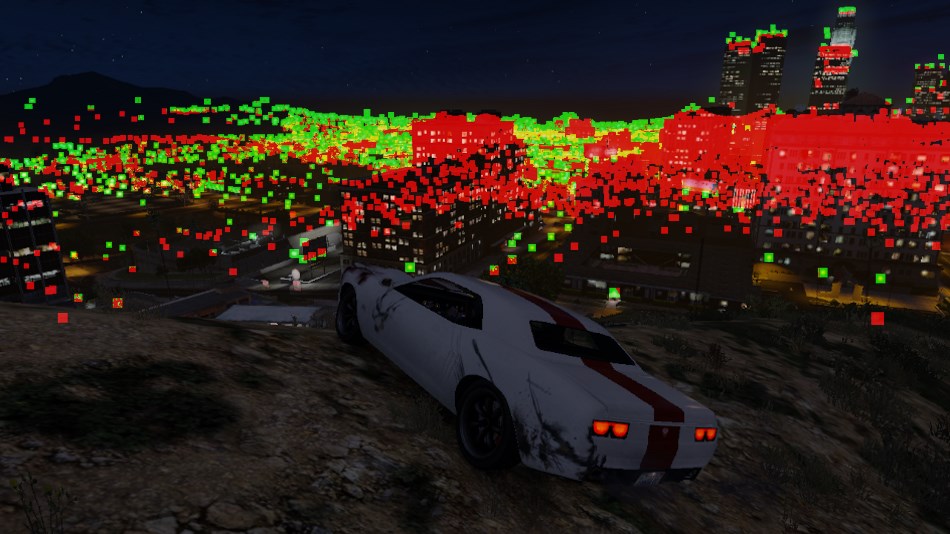 And these are not just static geometry: the car headlights are also moving along the roads, updated in real-time. Of course at this distance, no need to render the full car models, only 2 headlights are enough to create the illusion. But if you decide to go near some distant light, as you come closer, the LOD increases and eventually the full model of the car is drawn.
Low-Poly Meshes
Let's go back to the frame we dissected previously. Some really vast portions of the world are rendered in a single draw call. For example if we consider the rendering of the hill below: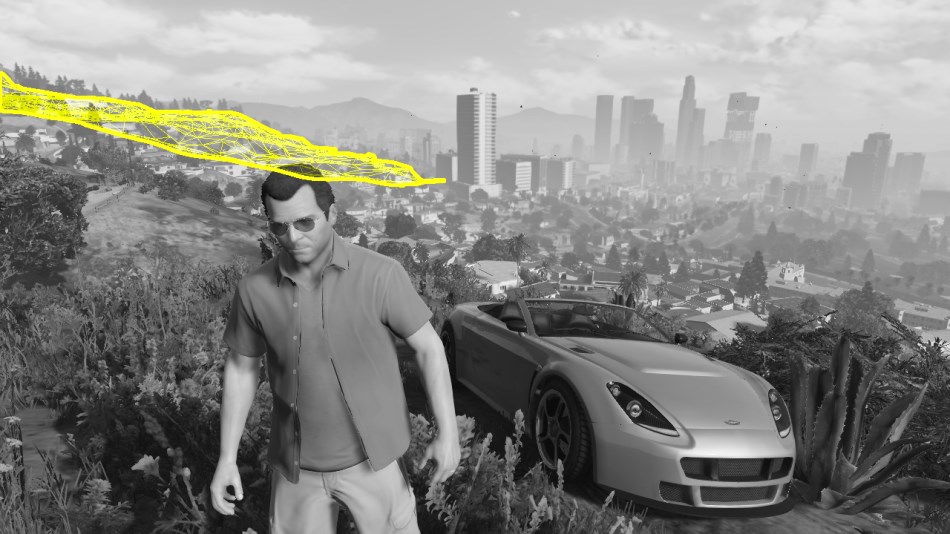 So what exactly is that tiny hill far away?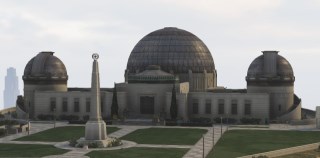 Turns out it's not small at all, it's actually Vinewood Hills a big area spanning across several square kilometers, with dozens of houses and buildings.
There's the Galileo Observatory sitting on the top of the hill, the Sisyphus Theater, Lake Vinewood, all of these areas which, when you explore them or drive by them, are rendered with thousands of draw-calls and tons of polygons.
But in our case, this zone is far away, so a low-poly version is rendered: a single draw-call pushing only 2500 triangles.
All the rendering is done with a single mesh reading from a diffuse texture. Even if some tools exist to convert a mesh to a lower-poly version, they can't fully automate the process and I wouldn't be surprised if the 3D artists at Rockstar spent days fine-tuning the meshes manually.